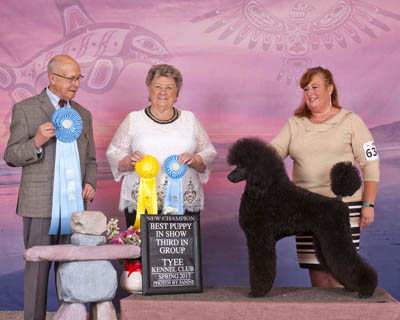 New Canadian Ch Reigate Dawin Edge of Glory
(Cdn Am Ch Reigate Dawin Moonshadow X Cdn Am Ch Dawin At The Ready)
A great weekend for "Krystal"!
New Ch from the Puppy Classes
3 Best puppy in Groups
1 Best Puppy in Show
1 Group 3rd!!
Krystal is co-bred and co-owned with Suzanne Loblaw of Reigate Poodles
Thanks to Lisa Wright for showing her to these wins.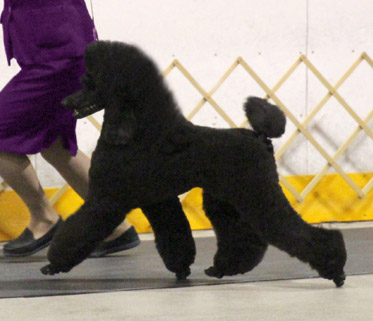 New Canadian Ch Dawin Light My Fire
(Ch Hallifax D'Havilland Dove X Cdn Am Ch Dawin Playing With Fire)
"Simone"
In 4 shows on a weekend (her first time in the ring)
New Champion from Puppy Classes
4 Best of Breeds
2 Group 2nds
2 Group 4ths
3 Best Puppy in Groups
On the next weekend:
4 Best of Breeds
1 Group 1st
1 Group 2nd
1 Group 3rd
3 Best Puppy in Groups
1 Best Puppy in Show!!!!
Thanks to Sarah Drake for showing her so well to these wins!

  April 2017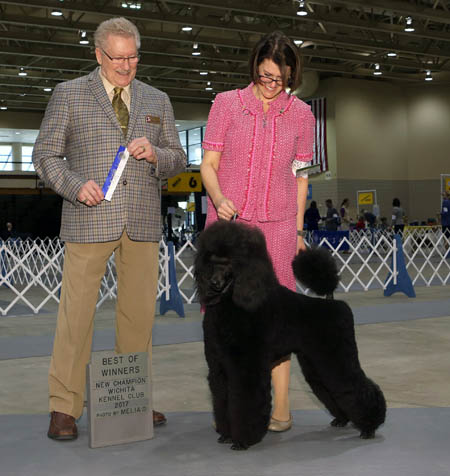 American Ch Dawin Firefly
(Ch Huffish Rave The Rhythm X Can Am Ch Dawin Sizzlin' Hot)
"Fia"
-finished her championship very handily with, two 5 point majors and two 3 point majors.
Winners Bitch, Best of Winners and Best Puppy in Specialty at the PC of Tulsa under judge Dana Plonkey!!
PCA 2017 – 2nd 9-12 month old Puppy Bitch
Thanks to Sarah and Matt for all their wonderful care and presentation!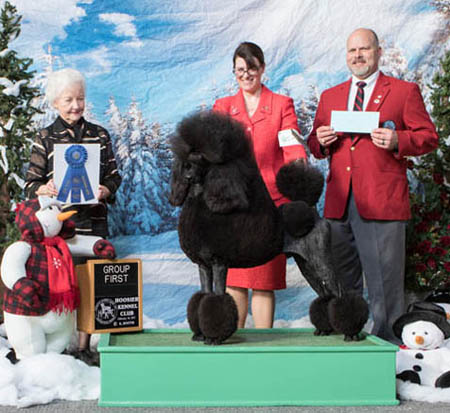 American Ch Dawin Braveheart
(Can Am GrCh Dawin I Know It X Can Am GrCh Dawin Hearts On Fire)
"Gibson"
PCA 2016 – 1st place 6-9 month puppy dog
Multiple Group winner in Canada as a puppy
Multiple Best Puppy in Show winner in Canada
Group winner in the US from the classes!
PCA 2017
– 1st Open Dog
– Reserve Winners Dog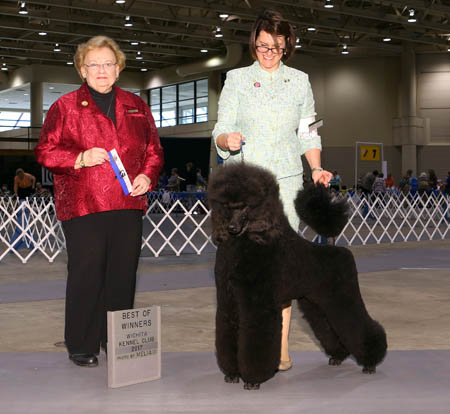 American Ch Dawin Steal My Heart
(Ch Huffish Rave The Rhythm X Can am GrCh Dawin Hearts On Fire)
"Stealer"
PCA 2017 – 2nd 9-12 month Puppy Dog (shown by Lotta Sandell)
-finished his championship from the puppy classes
WD BW and Best of Breed at Meri Miss KC!!!! (judge Anne Savoury Bolus)
Well done to Sarah, Matt and their assistant, Cici
New Champions